On this day in 1936, prominent Okinawan masters gathered in Naha and formally adopted the term Kara-Te 唐手 (empty hand). The masters present included Hanashiro Chomo (1869-1945), Kyan Chotoku (1870-1945), Motobu Choki (1871-1944), Miyagi Chojun (1888-1953), Kiyoda Juhatsu (1886-1967, Chibana Chosin (1885-1969), and Shinpan Shiroma (1890-1954).
*The three highlighted in bold text are Shimabuku Tatsuo's teachers.

Large Karate demonstrations, like the following video, are held in Okinawa on October 25th to commemorate the Meeting Of The Masters and celebrate the Okinawan art of Karate.
The declaration of KARATE NO HI (空手の日) KARATE DAY
http://okic.okinawa/en/archives/newstopics/536?fbclid=IwAR1XjOCKa73yxfJPnqnTzgmMkSVwrRhQcWz1QcJhaUoHbchdR4u9Qx2kyY8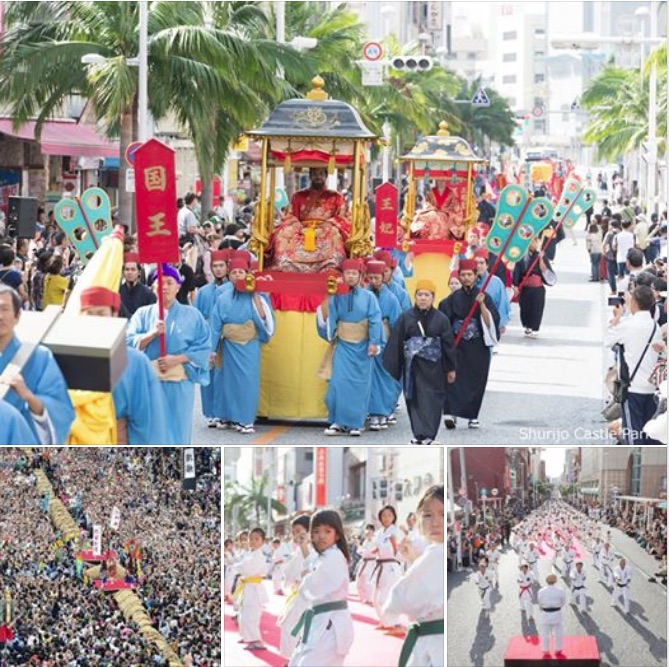 The Naha Great Tug-of-War Festival features the world's biggest straw rope, recorded in the Guinness Book of World Records. The Shurijo Castle Festival highlights the Ryukyu Dynasty Emaki Gyoretsu Parade by a total of approx. 700 people. On Karate Day, more than 2,000 Karate enthusiasts demonstrate together. Also, The Okinawa-no Sangyo Matsuri (Okinawa Industrial Festival), which puts made-in-Okinawa products on display all in one place, will be held in late October.
Do not miss these big events that represent Okinawa!
🔹The Naha Great Tug-of-War Festival
Saturday, October 12 to Monday, October 14, 2019
– Saturday, October 12: Shimin Engei Minzoku Dentou Geinou Parade (citizens' entertainment and traditional folk arts parade) [Kokusai Street]
– Sunday, October 13: Naha Otsunahiki and Otsunahiki Gyoretsu (The Naha Great Tug-of-War and Great Tug-of-War Parade) [Kumoji crossing on Route 58]
– Saturday, October 12 to Monday, October 14: RBC Shimin (civic) Festival & Orion Beer Paradise [Onoyama General Athletic Park]
🔹Ryukyu Dynasty Emaki Gyoretsu Parade in Shurijo Castle Festival
12:30 to 14:30, Sunday, October 27, 2019 [Kokusai Street]
🔹Karate Day Anniversary Demonstration Festival
15:30 to 17:00, Sunday, October 27, 2019 [Kokusai Street]
🔹43rd Okinawa-no Sangyo Matsuri (Okinawa Industrial Festival)
10:00 to 19:00, Friday, October 25 to Sunday, October 27, 2019 [Okinawa Prefectural Budokan, Onoyama Park]
For information about events in Okinawa:
http://bit.ly/2nIZZ9j